Ricotta Dutch Baby Pancake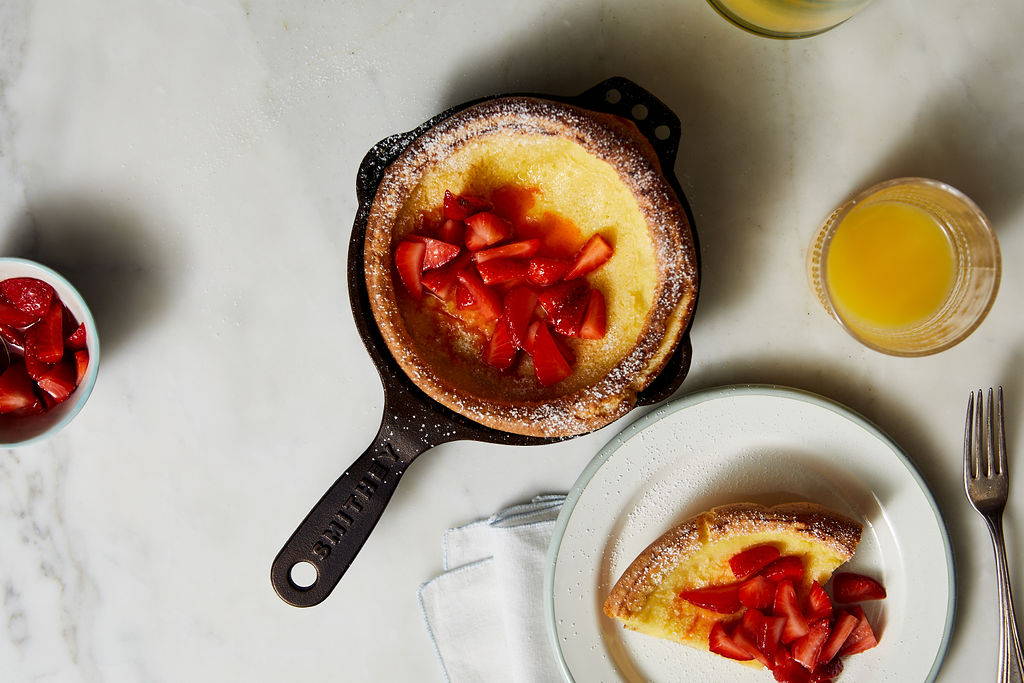 Ricotta Dutch Baby Pancake

Makes 2 pancakes to serve 2-4

1 cup sliced strawberries
1 tablespoon lemon juice
2 tablespoons sugar, divided
1/3 cup whole milk
1/3 cup ricotta
3 eggs
1/4 teaspoon lemon zest
1/2 teaspoon vanilla extract
1/4 teaspoon fine sea salt
2/3 cup all-purpose flour
2 tablespoons unsalted butter, divided
Confectioners' sugar, for dusting
---
1. Preheat oven to 450˚F. Place two No. 6 Skillets on a baking sheet and transfer to preheated oven for at least 10 minutes.
In a small bowl, stir together strawberries, lemon juice and 1 tablespoon sugar. Reserve.
Combine milk, ricotta, eggs, lemon zest, vanilla, sea salt, flour, and remaining 1 tablespoon sugar in the pitcher of a blender. Blend until smooth, about 15-20 seconds. Keep batter at room temperature.
Remove skillets from the oven and add 1 tablespoon butter to each. Return to the oven for 2 minutes until butter is melted and coats the inside.
Remove skillets from the oven and pour half the batter into each skillet. Immediately return to the oven and bake until puffy and golden brown, 20 minutes. Important: Keep the oven door closed during baking! Opening the door will prevent the pancake from rising.
Remove pancakes from the oven. Spoon macerated strawberries over the top and dust with confectioners' sugar. Serve immediately.
Share