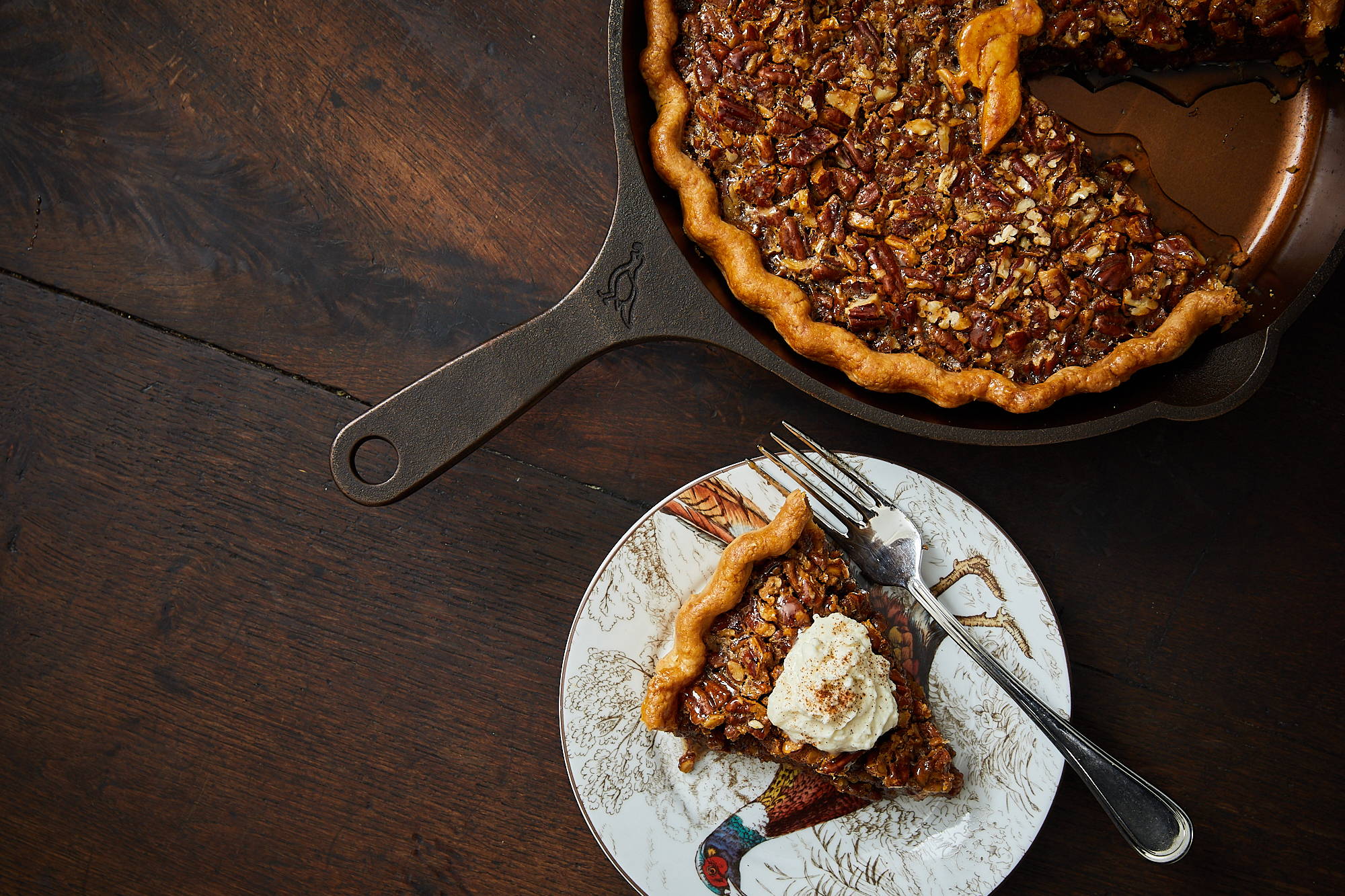 1 pie crust, store-bought or homemade
1/2 cup butter, melted and cooled
1/2 cup dark brown sugar
1/2 cup maple syrup
1/2 cup corn syrup
1 teaspoon vanilla extract
3/4 teaspoon cinnamon
1 tablespoon bourbon
1/2 teaspoon coarse kosher salt
3 eggs, beaten
2 cups (8 ounces) roughly chopped pecans
---
Servings: 6-8
Remove pie crust from refrigerator and allow to sit at room temperature 5-10 minutes, until just pliable enough to roll. Roll into a large even circle about ¼-inch thick and 14 inches in diameter, dusting with a bit of flour as necessary to prevent sticking. Carefully lift dough into the skillet and gently press into the bottom and corners, leaving no air gaps. Fold the overhanging dough under to yield a thick border, then shape as desired with your fingers or a fork. Trim away excess dough. Dock dough all over with a fork and return to the refrigerator to chill for at least 30 minutes.
Spray one side of a piece of foil or parchment paper with nonstick cooking spray and lay on top of the chilled dough. Fill with pie weights or dried beans. Bake in preheated oven for 20-25 minutes. Remove pie weights and foil or parchment and return skillet to the oven. Bake uncovered until crust is cooked through and lightly golden in color, about 5-10 minutes longer.
Reduce oven temperature to 300˚F.
In a large bowl, stir together melted butter, brown sugar, maple syrup, corn syrup, vanilla, cinnamon, bourbon, salt, and eggs.
Scatter pecans into the warm pre-cooked pie crust. Carefully pour the filling over the top. Bake in preheated oven for 60-75 minutes, just until set. Allow to cool completely in the skillet before slicing.
Share