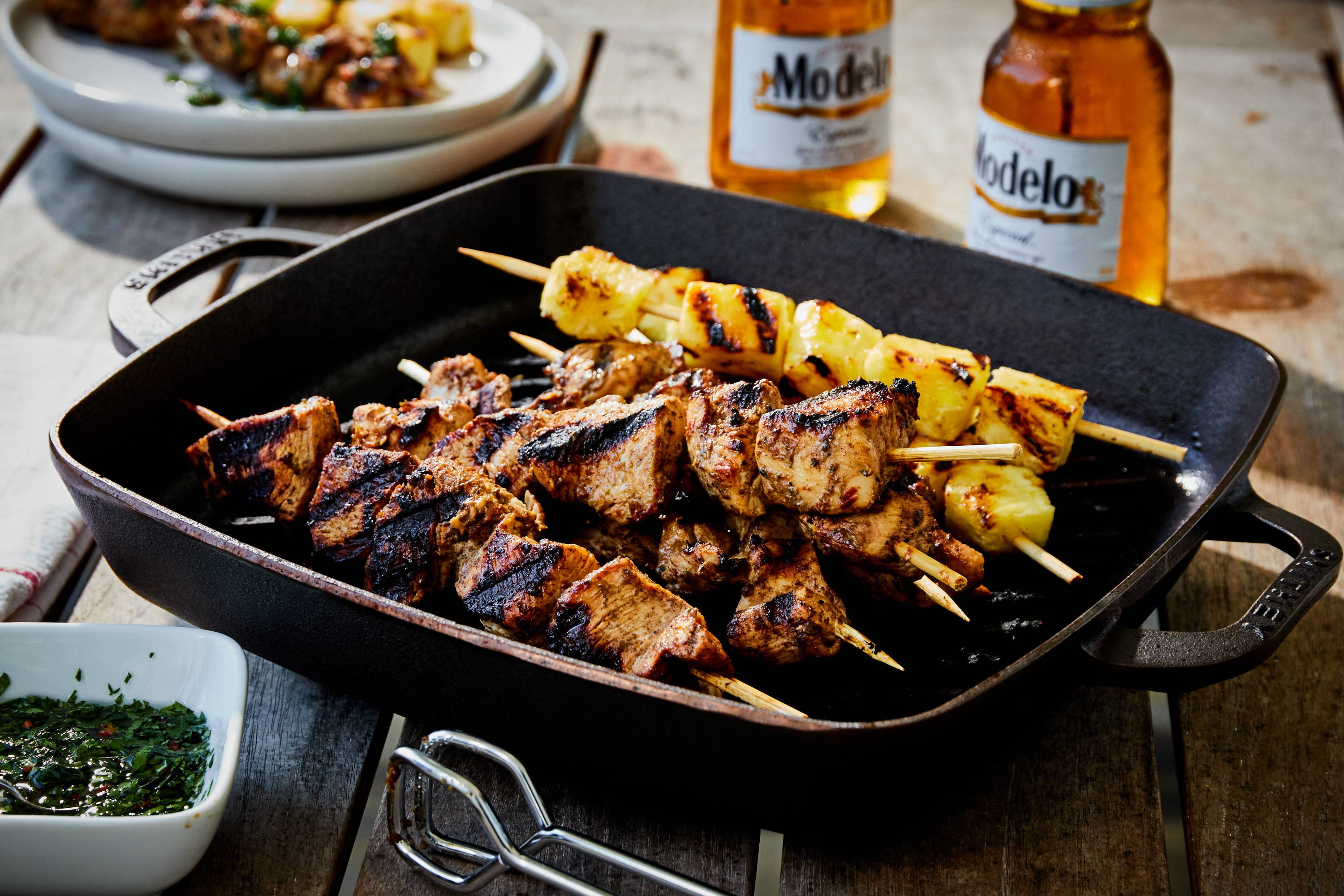 1 small pineapple, peeled, cored, and quartered lengthwise
5 green onions, chopped
2 Scotch Bonnet chiles, seeds removed, chopped (substitute habanero)
2 garlic cloves, chopped
2 teaspoons ground allspice
2 teaspoons Chinese five spice
2 teaspoons fresh thyme leaves
1/2 cup soy sauce
2 tablespoons canola oil, plus more for the pan
1 tablespoon lime juice
2 pounds boneless skinless chicken breasts or thighs, cut into 1-ounce pieces
Coarse kosher salt, to taste
Freshly ground black pepper, to taste
2 tablespoons finely chopped cilantro
2 tablespoons finely chopped parsley
1 Scotch Bonnet pepper, seeds removed, minced (substitute habanero)
1/4 cup extra virgin olive oil
1 tablespoon lime juice
Finely dice ¼ cup of pineapple. Cut the remaining pineapple into 2-inch pieces and reserve.
In a food processor, combine ¼ cup diced pineapple, green onions, chiles, garlic, allspice, Chinese five spice, thyme, soy sauce, vegetable oil, and lime juice. Process until smooth, about 1 minute.
Pour the marinade into a large shallow dish, add the chicken, and turn to coat. Cover and refrigerate for at least 4 hours and up to 12 hours.
Meanwhile, stir together the herb salsa ingredients in a small bowl and set aside.
When you are ready to cook, thread the marinated meat and the reserved pineapple pieces onto 9 or 10-inch skewers. Season with salt and pepper.
Preheat your No. 12 Cast Iron Grill Pan over medium heat for about 3 minutes. Brush the pan lightly with canola oil, then add skewers. Cook for 3 to 4 minutes on each side, until pineapple is caramelized and chicken is cooked through. Spoon herb salsa over the top and serve.
Share