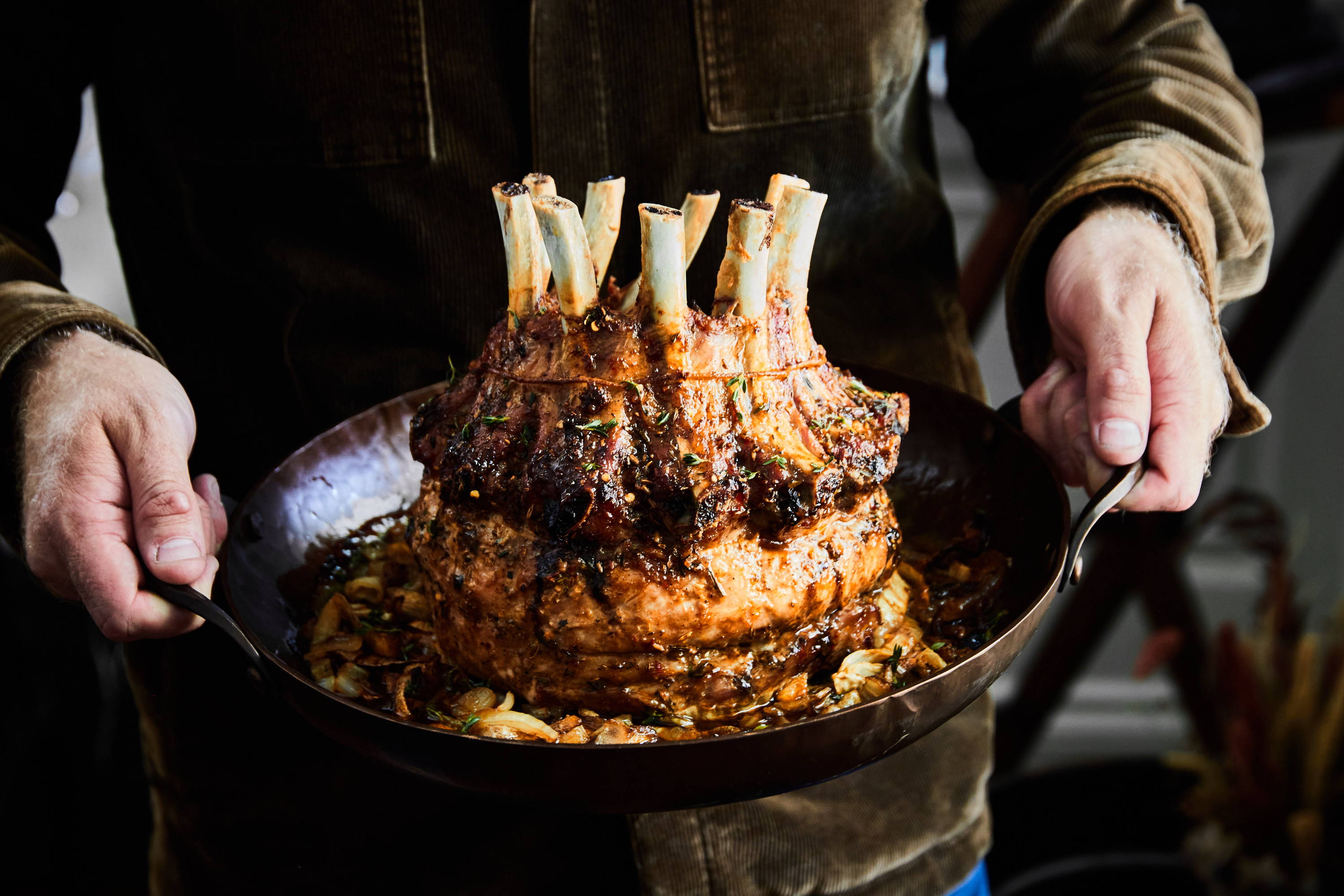 1 teaspoon finely grated lemon zest
1 teaspoon picked thyme leaves
2 teaspoons chopped fresh rosemary
1 tablespoon brown sugar
1 teaspoon minced garlic
1/2 teaspoon red pepper flakes
1 teaspoon fennel seed, toasted
1 teaspoon smoked paprika
1 tablespoon salt
1/2 teaspoon ground black pepper
1/4 cup olive oil
---
1 (7-8lb) pork crown roast (also known as rib rack), with 8-10 bones, frenched
3 onions, sliced into ½-inch half moons
1 bulb fennel, sliced into ½-inch half moons
Preheat oven to 325˚F convection (350˚F conventional).
In a small bowl, mix together rub ingredients (lemon zest through olive oil).
Rub mixture generously over all sides of the crown roast. (If it is already tied, do your best to rub the meat on the interior). Shape the roast into a circular crown and tie at the top and bottom with butcher's twine. Wrap the exposed bones with small pieces of foil to prevent them from burning.
Make a bed of onion and fennel slices in the Round Roaster. Set the prepared crown roast on top.
Transfer to the preheated oven and roast until the center of the roast reaches 135-140˚F with an instant-read thermometer, about 2 hours depending on the size of your roast.
Transfer crown roast to a cutting board to rest. Season the now-caramelized onions and fennel with salt and pepper to taste. Spoon into a bowl. Carve roast and serve hot with onions & fennel.
---
Share