"Swicy" (Sweet & Spicy) Skillet Chicken Wings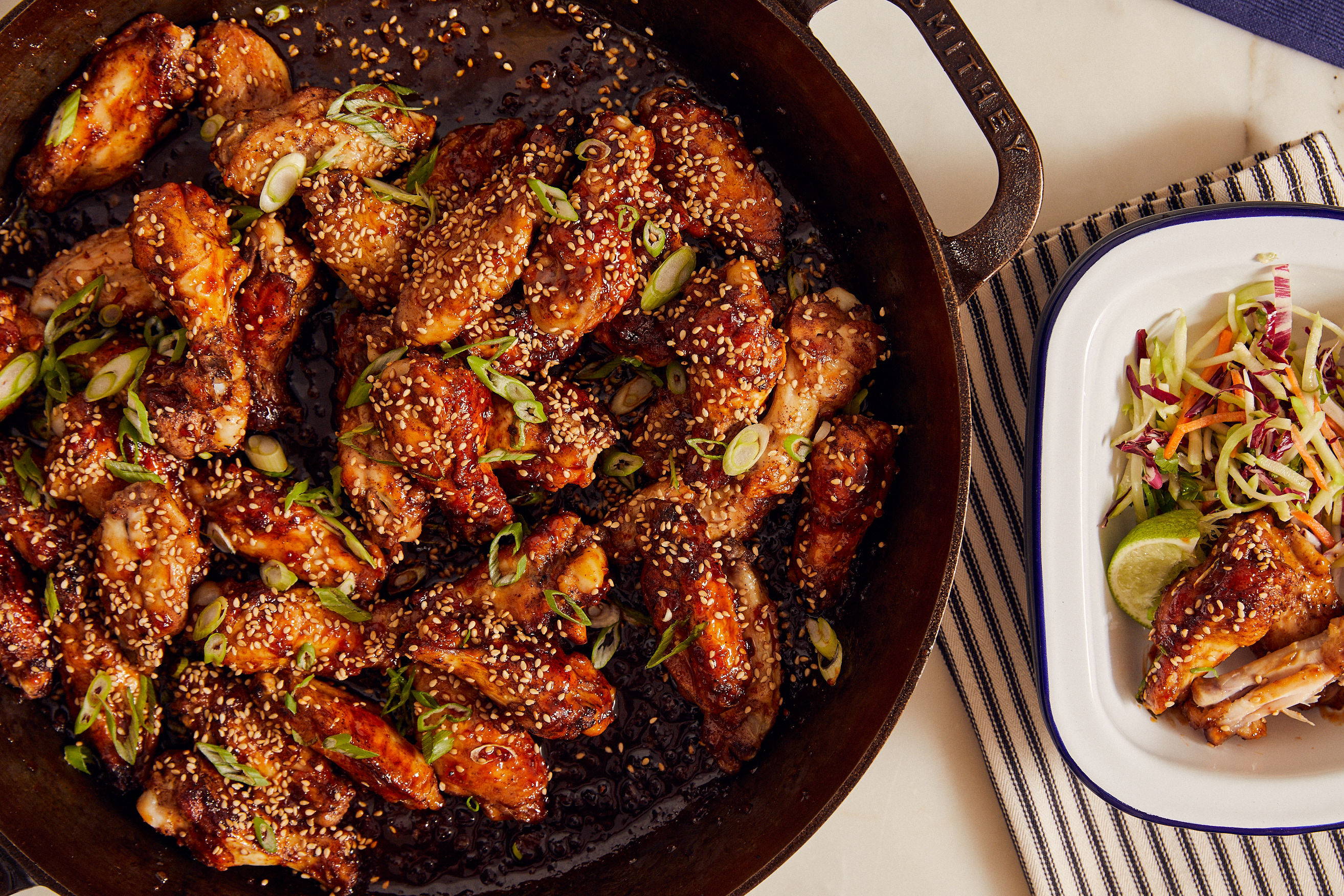 "Swicy" Skillet Chicken Wings

3 tablespoons garlic-chili sauce
3 tablespoons hoisin
2 tablespoons honey
1 tablespoon soy sauce
1 teaspoon sriracha, or more to taste
1 teaspoon toasted sesame oil
2 dozen cut chicken wings (about 2 lbs)
3/4 teaspoon Chinese Five Spice
1/4 teaspoon cayenne
2 teaspoons coarse kosher salt
Freshly ground black pepper, to taste
1 tablespoon canola oil
1 tablespoon butter
2 tablespoons toasted sesame seeds
2 tablespoons sliced green onions
---
"SWICY" SKILLET CHICKEN WINGS
In a small bowl, whisk together garlic-chili sauce, hoisin, honey, soy sauce, sriracha, and sesame oil.
Pat wings dry with paper towels and place in a large mixing bowl. Season with Chinese Five Spice, cayenne, salt, and pepper and toss to combine.
Heat oil and butter together in the No. 14 Skillet over medium heat. Add wings and sear until golden brown on all sides, flipping every few minutes, about 10 minutes total. Transfer skillet to the preheated oven and bake until wings are cooked through and tender, about 18-20 minutes.
Return skillet to the stovetop and carefully spoon off 1-2 tablespoons of excess fat. Stir in reserved sauce and turn the heat to medium high. Simmer, stirring gently, until sauce is reduced slightly and wings are coated and sticky, about 2-3 minutes. Off the heat, toss with sesame seeds and green onions. Serve hot.
---
Share