Stir-Fried Spaghetti with Shrimp, Cherry Tomatoes and Capers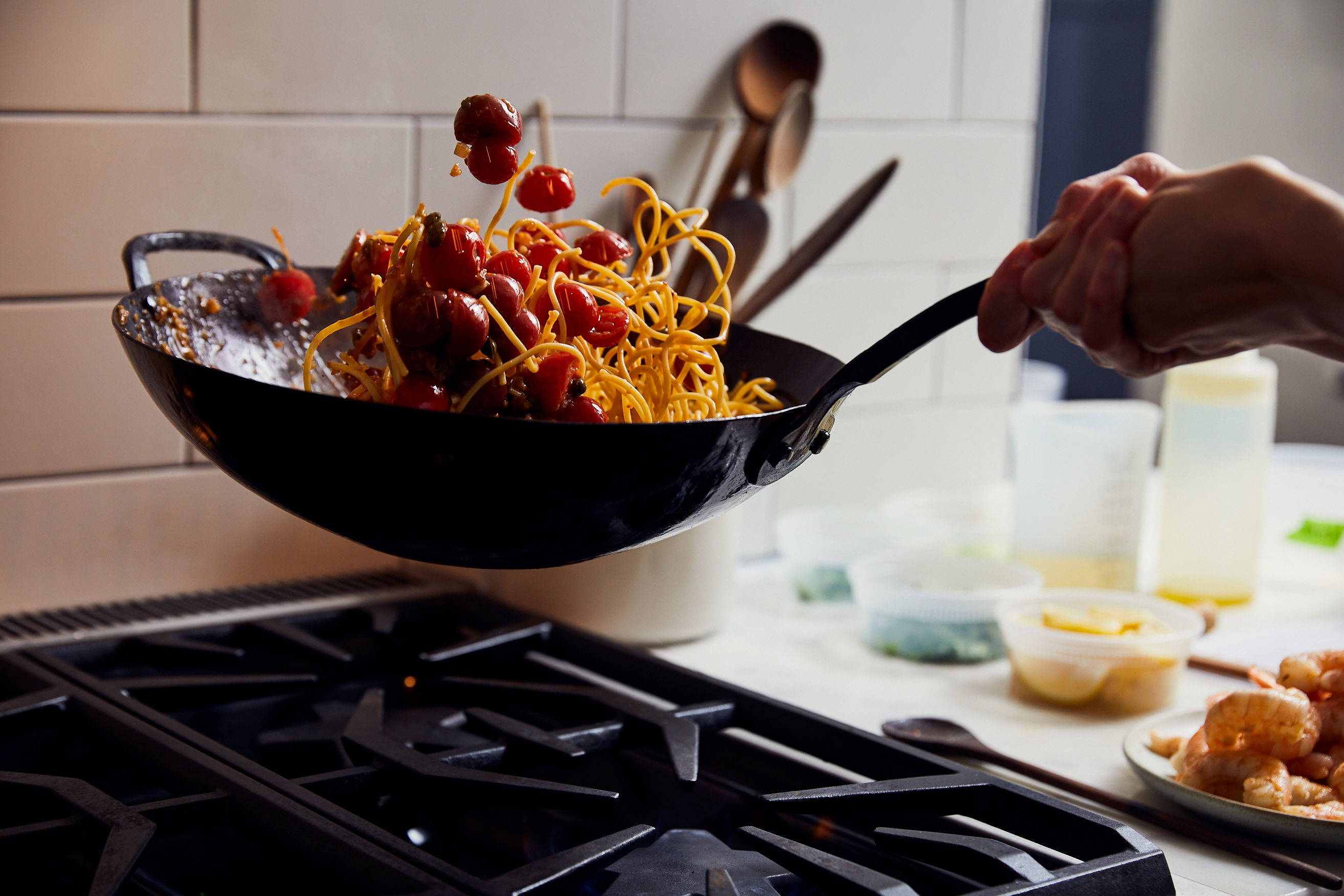 Stir-Fried Spaghetti with Shrimp, Cherry Tomatoes and Capers

8 ounces dry spaghetti
5 tablespoons olive oil, divided
12 ounces medium to large shrimp, peeled and deveined
1/4 cup finely diced shallot
1 tablespoon minced garlic (3 large cloves)
1/2 teaspoon red pepper flakes
2 tablespoons capers, rinsed
1 pint cherry tomatoes, larger ones halved, smaller ones left whole
1/2 cup dry white wine
Reserved pasta water, as needed
2 tablespoons chopped parsley, to garnish
1/4 cup basil leaves
1 tablespoon lemon juice
Coarse Kosher salt, to taste
Freshly ground black pepper, to taste
---
Stir-Fried Spaghetti with Shrimp, Cherry Tomatoes and Capers
Bring a large pot of water to a boil. Season generously with salt, then add spaghetti and cook until tender, about 10 minutes. Reserve about 1/2 cup of the pasta water, then drain. Toss spaghetti with 1 tablespoon of olive oil and set aside.
Season shrimp with salt and pepper. Heat 1 tablespoon olive oil in a wok over medium-high heat. Add shrimp and cook until pink on both sides and just cooked through, about 2-3 minutes. Transfer shrimp to a plate.
Add remaining 3 tablespoons of olive oil to the wok. Stir in shallots, garlic, capers and chili flakes. Cook over medium-high heat, stirring constantly, until browned and fragrant and shallots get slightly crispy, about 3 minutes (be careful not to let the garlic burn). Add tomatoes and cook for 1 minute until they start to soften and burst. Add reserved pasta, shrimp, white wine and 1/4 cup of pasta water and toss to combine. Cook 1-2 minutes, tossing constantly, until sauce reduces slightly and coats the pasta. Add herbs and toss again.
Remove from heat and finish with lemon juice and salt and pepper to taste. Serve immediately.
---
Share