Spinach & Artichoke Dip with Jumbo Lump Crab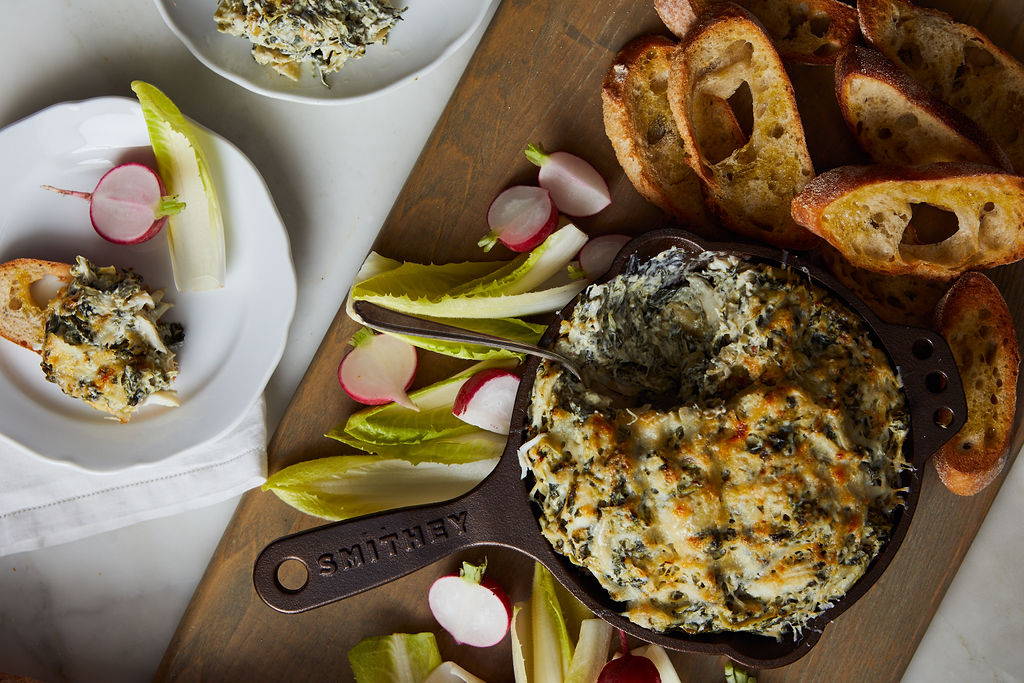 Spinach & Artichoke Dip with Jumbo Lump Crab

10 ounces frozen chopped spinach
1 (14-ounce) can quartered artichoke hearts
2 teaspoons olive oil
1 shallot, finely chopped
1/4 teaspoon crushed red pepper
4 ounces cream cheese
1/4 cup sour cream
1/4 cup mayonnaise
3/4 cup grated Parmesan cheese, divided
Optional: 3 ounces jumbo lump crab meat, picked over carefully for shells
Coarse kosher salt and black pepper, to taste
Crostini, crackers, raw vegetables, for serving
---
Thaw frozen spinach fully and squeeze dry. Drain and rinse artichokes. Pat dry and chop into 1/2-inch pieces.
Heat olive oil in a medium pot over medium heat. Add shallot and cook, stirring until softened and fragrant, about 2 minutes. Add crushed red pepper, thawed spinach, and prepared artichokes. Season with salt and pepper. Continue to cook, stirring frequently, until any residual liquid from the spinach has evaporated and vegetables are seasoned and warmed through, about 5 minutes.
Turn off heat. Fold in cream cheese, sour cream, mayonnaise, and 1/2 cup of the parmesan cheese. Stir until melted. Taste and season with salt and pepper as needed. Gently fold in crab, if using, careful not to break up the large lumps.
Mound the warm dip into the No. 6 Skillet and top with remaining 1/4 cup parmesan cheese. Broil until cheese is melted and golden brown and dip is bubbling hot, 2-3 minutes. (Watch carefully so it does not burn.)
Remove from broiler and serve hot with crostini, crackers, or raw vegetables
Share