Hushpuppies + Honey Butter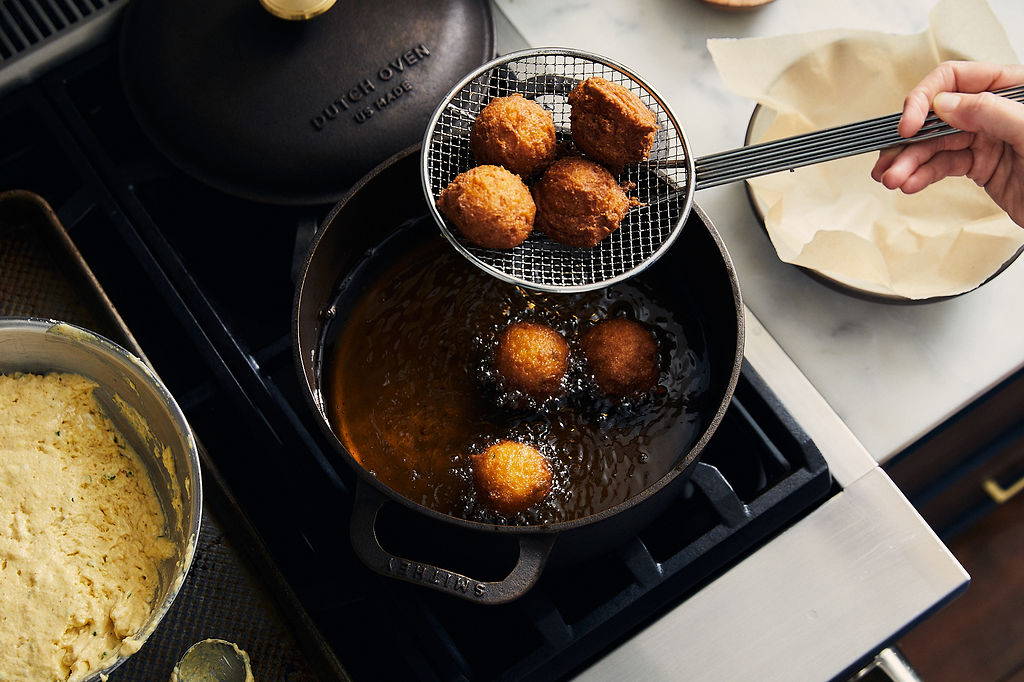 Hushpuppies + Honey Butter

1 1/2 cups (7 ounces) fine stone-ground yellow cornmeal, such as Geechie Boy Mill
2/3 cup all-purpose flour
1 teaspoon baking soda
2 teaspoons baking powder
Pinch (1/8 teaspoon) cayenne
2 teaspoons coarse kosher salt
2 tablespoons sugar
4 tablespoons frozen unsalted butter
1/4 cup finely diced jalapeno
1 egg
1 1/2 cups cold buttermilk
6 cups peanut oil, or canola oil, for frying
1 stick unsalted butter, softened at room temperature
1 tablespoon honey
½ teaspoon kosher salt
---
Makes about 2 dozen
In a large bowl, whisk together cornmeal, flour, baking soda, baking powder, cayenne, salt and sugar.
Using a box grater, grate the frozen butter directly into the bowl of dry ingredients. Add jalapeno and fold to combine.
In a separate bowl, whisk together buttermilk and egg. Gently fold into the dry ingredients, careful not to overmix.
Add oil to Dutch Oven and heat over medium until a thermometer reaches 350˚F.
Using two spoons or a small ice cream scoop, carefully drop hushpuppies into hot oil by the heaping tablespoon. Fry until deep golden brown in color, turning frequently, about 90 seconds. Season with salt and serve immediately with softened Honey Butter.
In a small bowl, stir together softened butter, honey, and salt. Serve at room temperature.
Share