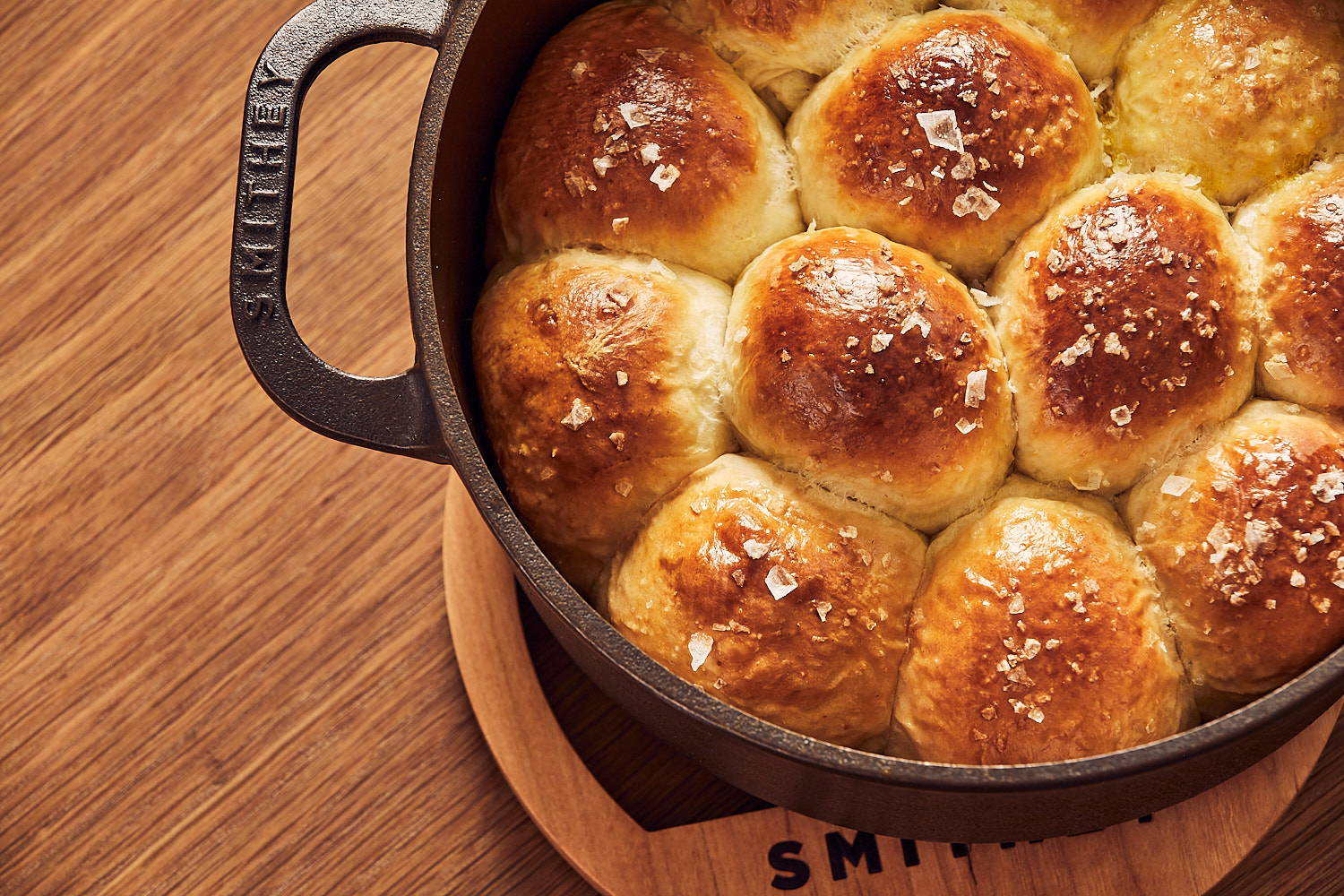 3 cups all-purpose flour, more as needed
2 teaspoons (1 packet) instant yeast
1 1/4 teaspoon salt
1 cup plus 1 tablespoon milk, divided
2 tablespoons honey
4 tablespoons unsalted butter, divided
1 egg
1/2 teaspoon flaky sea salt
---
In the bowl of a stand mixer fitted with the dough hook, stir together flour, yeast, and salt.
Combine 1 cup milk and 1 tablespoon butter in a small pot (or a microwaveable dish) and heat until butter melts, about 95˚F. Whisk in honey.
With the mixer on low speed, slowly add warm milk mixture to the dry ingredients until dough starts to come together. If dough is very wet and sticky, add a bit more flour, 1 tablespoon at a time, until it comes together.
Knead dough on medium speed for 5 minutes until smooth. Transfer to a large mixing bowl coated in softened butter or nonstick spray and cover. Let rise in a warm spot on the counter until doubled in size, about 60-90 minutes.
When the dough has doubled in size, turn onto a clean counter and divide into 12 equal (2-oz) pieces. Cup your hand on top of one piece of dough. Gently press it against the counter in a tight circular motion until you have a smooth ball. Repeat with remaining dough. Arrange rolls on top of the melted butter in the bottom of the 3.5 QT Dutch Oven; they should not quite touch. Cover with plastic wrap and then the lid and let rise in a warm spot on the counter until they have doubled in size and are now snug against one another, about 1 hour.
Whisk together egg and remaining 1 tablespoon milk. Brush the top of the rolls with egg wash and sprinkle with sea salt. Bake uncovered until fluffy and golden brown, about 25-30 minutes.
Share